Johnson & Johnson's consumer division is recalling more than 53 million bottles of over-the-counter products including Tylenol, Motrin and Rolaids after reports of an unusual odor, expanding on an issue that led to a Tylenol recall last year.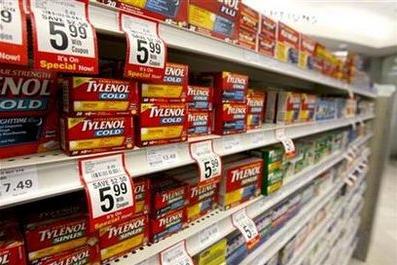 The latest voluntary recall, which drew a sharp rebuke from U.S. regulators on Friday, followed consumer reports of "an unusual moldy, musty, or mildew-like odor that, in a small number of cases, was associated with temporary and non-serious gastrointestinal events," the company said. Such events included nausea, stomach pain, vomiting and diarrhea.
The Food and Drug Administration said the company had received about 70 complaints in 2008 of an intestinal problem or an unusual smell with Tylenol caplets but failed to report the problem to regulators until a year later.
The recall involves lots in the Americas, the United Arab Emirates (UAE), and Fiji. In addition to pain relievers Motrin and Tylenol, and the Rolaids antacid, the recall also involved the Benadryl allergy drug and St. Joseph's Aspirin. Source : Reuter
Sponsored links: